Spiral Knights Guild
Outbreak Gaming
Our Spiral Knights Guild was formed on the same day the game launched on Steam, it's a game we all hold a lot of love for as it's one of the games that most of our regulars and residents originally hailed from! All of our members are friendly, nice people who are all too happy to help others. We accept players from all over the world at any rank as we believe that anyone should be allowed to join our guild. We were all new once after all.
All in all we are a fun, relaxed guild to play in. If you want to hang out with awesome people and blast through a couple of missions that you have been stuck on this is definitely the guild for you! Stop by our guild hall or ask one of our officers to join. 🙂
History
The Outbreak Gaming Spiral Knights Guild was founded in 2011 years ago just after Spiral Knights came out of Beta with the aim of helping new knights on their adventures through the clockworks. For the longest time the guild was a bit quiet as there wasn't much to do guild wise we had a total of 50 odd members that all helped each other run arcade and gain crowns. After the guild hall update and later with the missions update the guild exploded in popularity and today has an active roaster of around 200+ players. A lot of work has been put into our guild hall during this past year since the guild hall update dropped, we have all pitched in and have built everything up from an empty lobby to the impressive fortress that we have now. It is a monument to our teamwork and community spirit.
One I am very proud of.
Our friendly members help each other with missions, helping knights of all ranks fight their way through the clockworks. Our Officers are professional and promote a good atmosphere in and around the guild. A lot of our members have commented on how nice it is to be in our guild and how they have never encountered another guild like it. We have an open door policy to recruiting, everyone is welcome. Every rank, any gear. We don't judge players on their rank or ability like other guilds do. We were all new once and as such the new players of today are the great players of tomorrow. We make the great players of tomorrow. 🙂
Guild Rules
1] Respect other players, be friendly and helpful.
Being rude or foul to our other members will get you kicked out of our guild very quickly. Be nice to our other members, answer each others questions and generally treat others how you would want to be treated by them.
2] Do not beg around Haven or in guild chat.
Guild members will happily help you with missions if they can but this guild isn't a free meal ticket for free energy/crowns or gear. We believe in players earning what they want themselves, begging annoys other players and it makes us look bad and so we ask that you don't do it while in our guild.
3] Be dedicated and loyal to the guild.
We ask that you only join our guild if you intend to stay in it. It is disheartening when a player leaves our guild for no reason, especially when we've done so much to help them. If you have been helped by our guild members we only ask that you consider sticking around to help others.
4] Put your fellow guildies before anyone else.
If you see one of our guild members asking for help in guild chat please do your best to help them out. Join guild member games over games hosted by a friend, you can always invite them to join Outbreak with you. We say this because we want our guild to be a tight community of friends and if you ignore fellow guild members this won't happen.
5] Scamming is forbidden.
Ripping off other guild members or players will get you removed from the guild. Conning/Deceiving others is low and it won't be tolerated.
6] Hacking is forbidden.
We play fair. Using third party programs to give yourself an unfair advantage over other players will get you removed from the guild and reported to Three Rings staff.
7] If you have access to our guild hall's design mode do not make layout changes without first consulting the guild master.
This is just because what you do in design mode saves for the next person that uses design mode so if a small change needs to be made and all the furniture has been messed up it would all need to be put back before the small change could be made.
8] If you remove anything from the guild storage please put something of equal star value so there is always something there for others.
Please note that taking multiple items without putting anything back will get you demoted or removed from the guild. If you take everything and leave the guild you will be reported to spiral knights support which may mean your account is terminated.
9] When using guild chat please talk in English and do not spam.
Please be sensible when talking in guild chat as it get broadcast to all guild members and if they are doing other things they might not want spam scrolling through their chat. Also please talk in English as it is the guild's main language and by sticking to it we can all understand each other. 🙂
10] Do not ask guild masters/officers for promotions.
Promotions have to be earned, once you have fulfilled the necessary criteria to earn the rank you will be promoted. Please just be patient and be the best guild member that you can be and your efforts will not go unnoticed. Asking guild management for promotions all of the time is an easy way to annoy them and will most likely have the reverse effect.
Contributing Crowns/Materials to the Guild Hall
It is important that members of our guild give some Crowns to the guild every now and again. This will help us upgrade our HQ and will make it look truly awesome after time. Giving furniture and Crowns to the guild regularly will also greatly improve your chances of rank promotion. 🙂
Here I will write up a small guide on how to give to the guild as the feature is quite new and home new players might not understand it.
First enter our guild hall by either walking to the entrance via The Garrison or by opening your activities menu (middle right hand side arrow) then click the "Go to Guild Hall" button.
When you have found your way to the guild hall you need to run straight up to the big console in the room in front of you.
Once you have found this console (shown below) press the attack button on it to open the menu you need to access.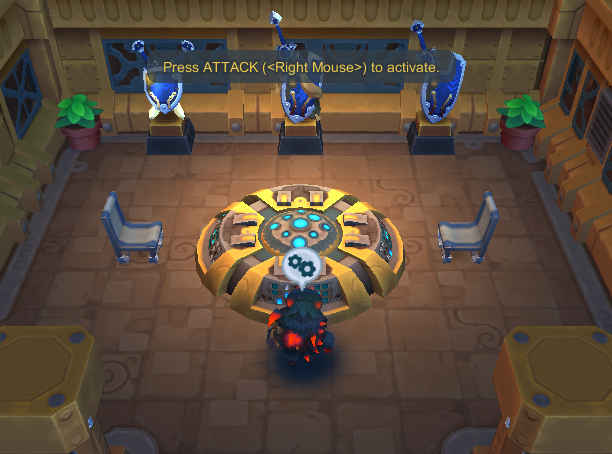 Your menu won't show as many items as mine but you will need to click on the "Show Guild Treasury" button shown on the left of the above image. This menu also shows you the upkeep cost. This is the cost it takes every week to keep the extra rooms we have created so we need to always make sure that the total is met.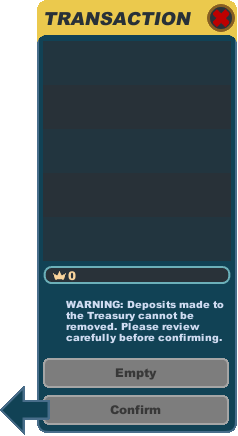 This will give you the final menu you need to give some crowns or furniture to the guild. This menu also opens up your arsenal and shows you what the guild already owns to the left. From this menu you can drag and drop furniture from your arsenal into the blank part of the box and you can enter an amount of crowns that you would like to give in the 0 crowns part. Once you are happy with your donation just press the confirm button and it will transfer your donation to the vault where I can use it to upgrade our HQ to make it look even cooler!
Helping Other Guildies
Remember to help other guildies that are running missions, it gets you some extra crowns and could help them complete a mission they would have otherwise struggled with. Give back to the guild by helping others, especially if you have been helped yourself. It promotes the friendly and awesome atmosphere that we are very proud of in our guild. If you encounter a guild member that is complaining about not having enough crowns offer to do an arcade/boss run with them to raise the crowns that they need.

You can also help other guildies by giving/selling materials to them when they are short of what they need to craft their gear. I usually sell things to guildies for a little under what they sell for on the auction house. If you don't particularly need the full amount of crowns that you would get from the auction house it is sometimes nice to offer these items at "guildie rates" as you help them craft the gear they want but also get a quick sale and most of the crowns you would have got from selling at auction. Good things will come back to you for helping others like this, trust me. 🙂

Always remember to be friendly and supportive when running missions with new players. Remember that new players may become frustrated when playing missions, especially if they go down in missions and you are unable to revive them (due to lack of sparks of life etc) please try to keep your cool and instead give them tips on how to improve their play style for example, by shielding more and by not rushing in to fights where they would be outnumbered.

Be the best guildie you can be and you will go far in this guild. 🙂
Guild Chat
Guild chat is an awesome extra chat channel that you can use in game. Anyone who is talking in guild chat will show as green text in your chat window. To use guild chat simply type /g then type your message and hit enter. Everyone in the guild will see what is entered in guild chat so please be respectful to other players and don't spam as others may be chatting in a mission and your spamming will scroll the text they may want to read off of the chat. Use guild chat to organise mission or arcade runs or if you need an item you could ask if any guild members have what you need.
Promotion Criteria
Recruit Rank Requirements
Anyone at any Rank/Tier/Star Rating can join Outbreak Gaming but once recruited must uphold the rules of our guild.
Member Rank Requirements
To Reach Member Rank You Must:
Be friendly and helpful to other players in the guild.
Be active and playing for at least a week.
Donate items, energy or crowns to the value of at least 3000cr a week. This helps guild players and guild upkeep.
Veteran Rank Requirements
To Reach Veteran Rank You Must:
Be Friendly and helpful to other players in the guild and must strive to help other players in the guild with their missions.
Be Active and playing for at least three weeks.
Donate items, energy or crowns to the value of at least 5000cr a week. This helps guild players and guild upkeep.
Download, install and regularly be on our TeamSpeak server.
Officer Rank Requirements
To reach officer rank you must:
Be hand picked from guild veterans when the guild master decides there is a need for officers.
Only the best and most trustworthy/helpful/friendly veterans will be picked to become officers.

We reserve the right to demote any guild member that after achieving a higher rank fails to maintain rank requirements.
In extreme breach of basic rank conditions you may also be removed from the guild.
For example, being foul and unpleasant to other guild members will not be tolerated.
Recruitment
Recruitment Status = Open
Want to join? Great! Visit our guild hall or ask one of our members to forward your name to the guild master. Or send a mail message to the man himself by typing combatmedic in the recipient box. We'll then get an invite out to you right away! Anyone can join it doesn't matter what country you live in or what gear you have, newbie or oldbie, everyone is welcome! We just ask that you don't break guild rules and are a friendly nice person. 🙂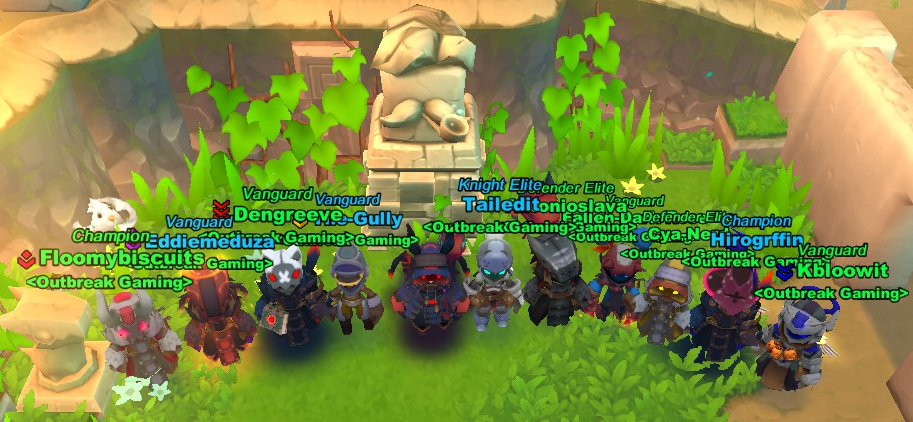 Inactivity
Please note that while we have an open door approach to recruitment we at least expect you to be active! Guild slots fill fast and we need to make sure that they are being used and not left to waste and so If you haven't been playing and haven't notified us that you are going to be away for a while we will remove you from the guild.

Recruits get a 1 month inactivity period before they are removed.

Members get a 2 month inactivity period before they are removed.

Veterans get a 3 month inactivity period before they are removed.

If you know you are going to be away from the game for longer than the the above stated time for your rank please let the guild master (combatmedic) know by sending him a quick mail message. Then we know that you are coming back and we'll make sure that you are not removed for inactivity.
Steam Store Page
Band together and fight to the Core! Spiral Knights is a cooperative adventure in a persistent world with a focus on instant, fast-paced action. Arm yourself and join the ranks of the Spiral Knights; stranded on an alien world, they must explore the ever-changing Clockworks beneath its surface in hopes of reaching its mysterious Core.