What is TeamSpeak?
TeamSpeak is an awesome little voice chat program that is widely used with games. I have installed Teamspeak on to our game server and it is open for all community members to use for free. Form teams for the games we play and work together, deploying tactics and coordinating Teamplay or just hang out and use it as a means to chat with other community members! To download it please click the following link and choose the version that is right for your operating system. http://www.teamspeak.com/?page=downloads
Once downloaded and installed you can open it to be presented with the window shown below.
From here you can manually join the server, alternatively click this button!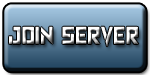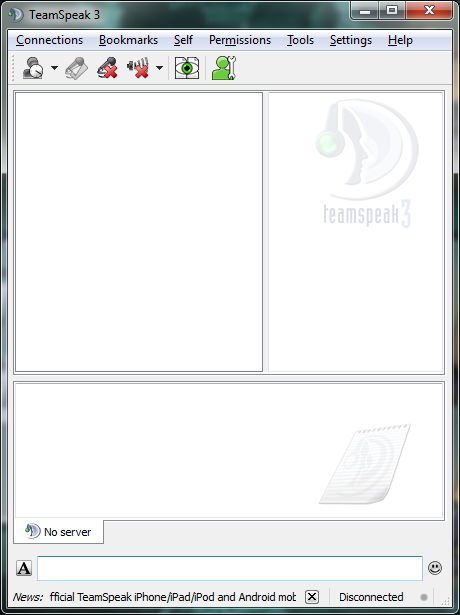 From here you can log on to our server. First click the Connections dropdown menu and then click Connect. The following window will open: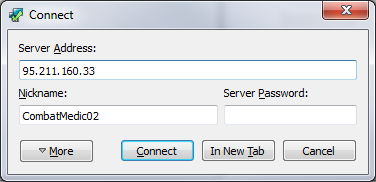 Now just enter the server's IP and pick a nickname for yourself, it is probably best if you use a nickname that is the same as your game names so everyone knows who you are when you are speaking. Click connect and that's it! You are now talking with the rest of our community members that use TeamSpeak! 🙂
Setting up a Microphone/Push-To-Talk
If there are a lot of people in a channel or your computer is in a room that is shared by others meaning background noise is picked up by your microphone you may want to set up Push-To-Talk mode. This is also how you ensure your microphone is set up properly so you may want to try this if you are having trouble getting your microphone to pick up. To set up Push-To-Talk mode or to ensure your microphone is selected first click on the Settings dropdown menu and then click Options or alternatively press the Alt and P keys.

Once you have opened options you'll need to click on the Capture menu item on the left hand side and you will see the window shown below.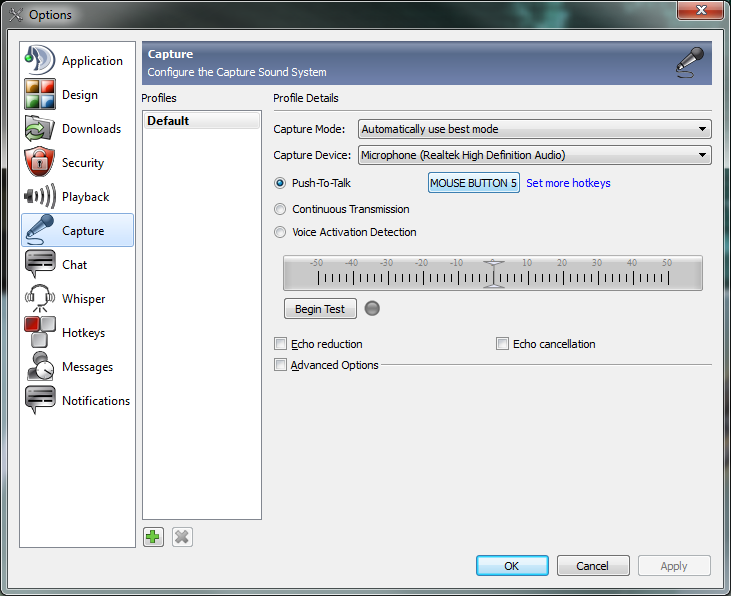 Make sure your capture device is set up as your Microphone then click the Push-to-Talk radio (circle) button. Next click on the button to the right of the Push-to-Talk radio button which will let set a custom key for the Push-to-Talk mode. This means that your microphone will only record when you are pushing the key or mouse button you have selected. This effectively solves any background noise problems you may be getting. Personally I use the browser back button on my mouse as I have a five button mouse and find that this is the most convenient button for me to use. Mostly because when playing a game my hand is usually always on the mouse so pressing it to communicate isn't any extra hardship. 😛
I hope you will all enjoy using TeamSpeak, don't forget to read the rules below, and I hope to chat with you soon! 😀
TeamSpeak Rules and Player Complaints
TeamSpeak is an infinitely convenient platform for community members to meet, socialize, and coordinate in a real-time environment.
However, for those of you who would use it, there are several reasonable rules we expect you to follow:
1) Respect other community members.
While we can't force you to be friends with everybody, we do expect you to be courteous towards anyone you meet on the channel. Basically – do onto others as you would have them do onto you.
2) Do not abuse other people on the channel.
This includes racial slurs, personal assaults, verbal violence and threats.
There will be zero tolerance towards anyone violating this rule. If we have proof someone crossed this line they will be banned without prior warning.
3) No harassing, flaming or grieving.
I know that sometimes the line might seem vague, but as a rule of thumb: If someone asks you to stop doing something, within reason, you should be considerate towards their request.
First time offenders will be muted for a day.
Second time offenders will be muted indefinitely.
Third time offenders will be restricted to penalty channels or banned, depending on severity.
4) No spamming.
This includes both microphone and chat.
We understand that sometimes it's easy to get carried away, just be wary of the people sharing the channel with you, and if they ask you to stop mic/chat spamming then promptly do so.
Repeated offenses will result in microphone/chat mute, respectably.
5) No pornography either linked in chat or set as avatar.
Some of the community members are very young and are not to be exposed to this kind of content.
Offenders will have privileges removed, confined to penalty channels, or banned, depending on severity.

If you witness anyone breaking the aforementioned rules, or have been abused/harassed by a fellow
member of the community, we ask that you take the following steps to report the offence:
1) Document the offense.
This is so you can provide the Outbreak Gaming staff with evidence so that they may promptly deal with the offender in question.
If the offense was typed, we recommend that you take a screenshot of the TeamSpeak chat-box using the PrintScreen key on your keyboard then paste into paint and save the resulting file. Otherwise, you may record conversations by pressing CTRL+SHIFT+T. This may deter the offender from further speaking, but that's also a plus.
2) File a complaint by Right-clicking the offending user and then click Make a Complaint. Fill out the window that then appears and press OK to submit the complaint. It will then be looked into by one of our TeamSpeak staff. You can send any proof that you have about the issue to them by our forums. This will allow us to deal with the issue as quickly as possible.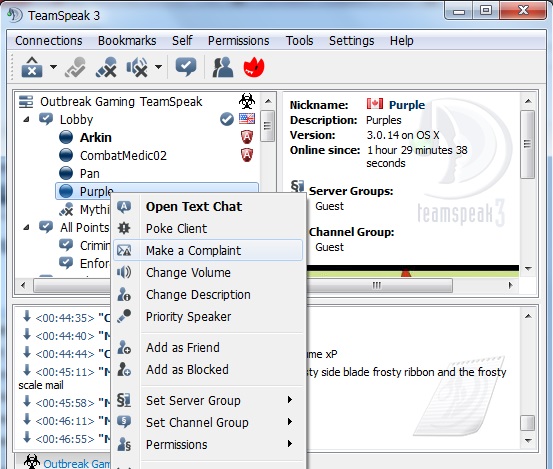 3) Whatever you do, do NOT under any circumstances try to retaliate towards the offender:
This usually just encourages them to continue. If someone is being obnoxious they aren't likely to change their ways if you attack them.
If you break the community's rules, even if provoked, then you WILL be held accountable. There will be no excuses.
Now that that's out of the way. Enjoy! Have fun! That's what we're all here for, after all!